Techical Diagram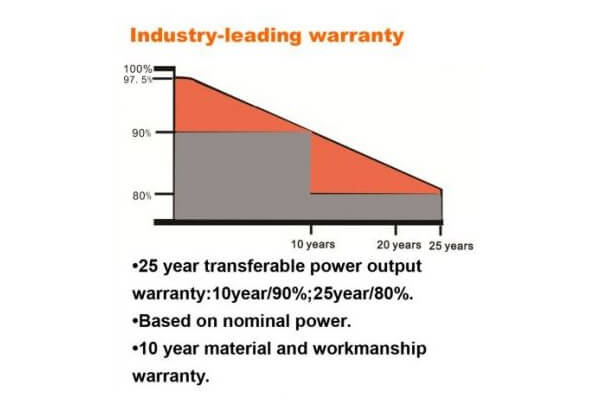 Facts
25 year transferable power output warranty: 10year/90%; 25year/80%.
10 year material and workmanship warranty.
Based on nominal power.
Chinaland Solar Panel
Introduction of BIPV
Sloped roofs are an attractive possibility for decentralized electric power generation. A versatile roof integrated PV system called CMC has been developed and brought into the market especially for residential roof. Almost any standard PV laminate framed with CMC can substitue the roofing. The Flexibility of the concept has proved its value.
Architectural and aesthetic demands satisfied
Substitute of roof tiles, slates etc. during construction and renovation
Any standard PV laminate can be framed
Both horizontal and vertical mounting possibility are available
Reliable waterproof protection
Easy to plan, quick to install 1
For roofs with pitches between 15* and 65°
Techical Diagram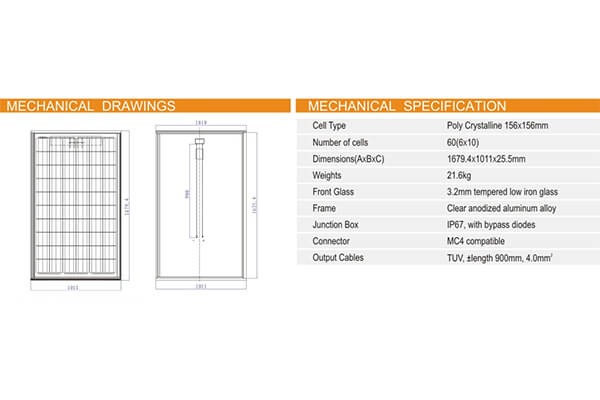 Facts
Guaranteed Performance
10 Years Manufacturing Warranty
12Years Warranty 90% Power Output
25 Years Warranty 80% Power Output
Free module recycling through
Membership in the Ceres Cycle Association
Growatt Inverter
Established in 2010, Growatt New Energy is a professional manufacturer of high – capacity PV solar inverters on the market. Growatt does a lot to technological developments. Growatt has just established a research and development center with more than 60 engineers whose experience lasts more than 10 years.
Techical Diagram
Facts
User-Friendly
Large LCD for display, easy for LCD operation
Smart cooling design, ensure for long lifetime
Remote service available on Growatt portal
Safe & Reliable
Leading IPM and thin-film design, more reliable
8 strings monitoring and fuse protection
Type II surge arrester for both DC and AC IP65 protection rating
High Yields
Maximum efficiency of 98.7%
Wide working voltage range
Integrated Anti-PID function
Techical Diagram
Facts
Maintains stability to resist shifting caused by wind and other stresses
Corrosion resistant
Light weight
SMA Inverter
The new UL-certified Sunny Tripower IDS is designed specifically to meet American requirements for mid to large-scale decentralized PV systems. With a peak efficiency of above 98 percent, OptiTrac Global Peak shade management, a DC input voltage range of up to 1000 volts – this three-phase, transformerless PV inverter has everything needed to ensure high efficiency. A security the Sunny Tripower can offer, thanks, in part, to integrated arc fault detection. Equipped with two independent MPP trackers, the Sunny Tripower 1.1.-US can be used in applications with input voltages of up to 600 and up to 1000 volts, offering enormous flexibility in the design of a PV system. Grid management functions are of course included as standard as well as the most cutting-edge communication and monitoring technology.
SUNNY TRIPOWER 12000TL-US – 30000TL-US
Techical Diagram
Facts
Flexible
Two independent MPP trackers
Various power classes
Efficient
Up to 1000 V DC input voltage range
98 % efficiency
Shade management with OptiTrac Global Peak
Secure Operation
All-pole sensitive residual-current monitoring unit
Arc fault detection (according to UL 16998)
Comprehensive grid management functions
Ethernet-based communication